Welcome
It's 2018 dues renewal time! Click here.
NGCSA Scholarship must be postmarked by April 15th - download an application here!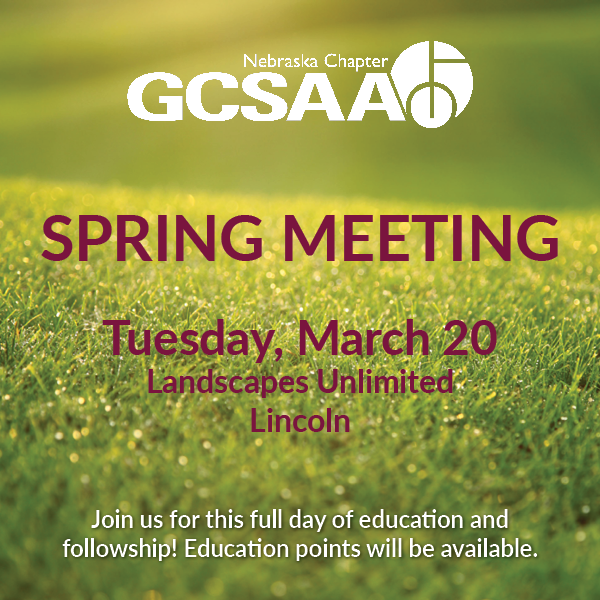 Please join us
at Landscapes Unlimited
- 1201 Aries Drive in Lincoln -
The meeting will include registration/breakfast, morning education, a NGCSA update, networking luncheon, and an afternoon quick hitter session on current Nebraska superintedent issues - you won't want to miss this great day!
.40 GCSAA Education Points will be offered
8:00 AM – Registration & Breakfast
8:30 AM - Welcome Remarks
8:30 – 10:00 AM – "Turf and Trees" – John Fech, Extension Educator, University of Nebraska
Break
10:30 AM – Noon – "Why Organic Matter, Matters" – Roch Gaussoin, PhD, Professor & Extension Coordinator, Dept. of Agronomy & Horticulture, University of Nebraska
Noon – 1:00 PM – Luncheon
"GCSAA Update" – Steve Randall, Director, Chapter Outreach, GCSAA
1:00 – 2:00 PM – "Superintendent Quick Hitters" panel discussion. Hear how Nebraska Superintendents address specific problems on their courses!
---
Be sure to follow us on Twitter - you can find us @NebraskaGCSA
To keep up with the latest information on Emerald Ash Borer in Nebraska, please visit www.EABNe.info.
---